My Husband, the Grocery Savior
Never fear, dears, my husband came through and saved my children from starvation and deprivation, or, less dramatically, from having to subsist solely on Ramen noodles and Easy Mac all week.
He bought the groceries for the week when he came home to visit us for the weekend.
He is a bit crazy.
He got out of his class in Virginia at 4:00 pm Friday, drove straight home to New York, spent the day on Saturday with us, and now has just recently left to drive back there for his class tomorrow morning at 7:00 am. It is a nine hour drive. He drove 18 hours to spend 36 hours here with us. Crazy.
We had a good day though. First off, I got stuff in the mail, and none of it was bills!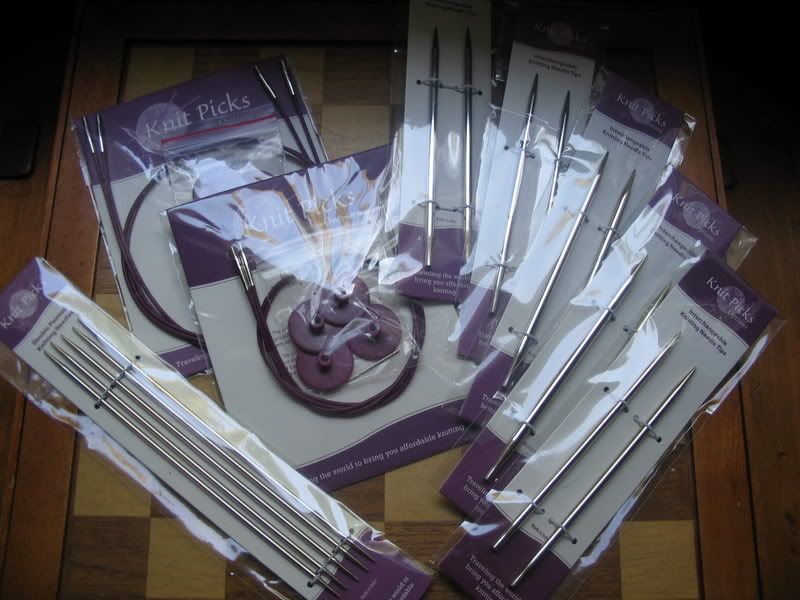 My Knit Picks Options circular needles and some of their Classic DPNs. I haven't used them yet, but I will...
I also got this:
This is Knit Picks Gloss yarn, a 70% Merino/ 30% Silk blend that I am going to make some cabley socks out of. It is the colorway called Dusk. Very pretty.
Then? I found out that my Tilli Thomas yarn will be delivered on Monday. It is actually in town...sitting in a warehouse, or on a big brown truck...waiting to be delivered. UPS doesn't deliver on Saturdays, of course...it is frustrating, knowing it is so close, and yet not here... Somehow, I'll work through it.
Then, we spent the afternoon watching episodes of
Grey's Anatomy
Season 2 on DVD. I am up to Episode 7. Episode 6 (the big train wreck where the two people were impaled together on the pole?) took a lot out of me emotionally...I needed a bit of a break after all the sobbing. And the weeping.
Next? We went out to eat at the kids' favorite place, The Country Drive-In. Virginia may have Sonic, but the CDI is the best. It is a warm-weather restaurant where you can order burgers, hot dogs, fish fry, fries, onion rings, and ice cream, and eat it outdoors underneath the most gigantic umbrellas I have ever seen!
Seriously, they are big. You can fit six, full-sized picnic tables underneath one umbrella.
Really big.
Even better than Country Drive-In? Taking Aunt Amy and Uncle Feeece [note the corrected spelling, Steve? Three e's just as you requested!] with us. They had never been.
They are converts.
It is like a spiritual experience...they make their own whipped cream for the sundaes, people. Seriously. And don't get me started on the french fries and homemade onion rings. Yum!!
Then? Home to our house to hang out, digest all the goodness, and knit! Amy was making the cutest garter stitch bibs from the new
Mason Dixon Knitting
book. They are just adorable. They made me want to have another baby just to use them. They are
that
cute.
We (Steve and I) are trying to convince Amy to start a blog for all of her knitting and beading adventures. I think we might be wearing her down.
We made plans for
Rhinebeck
. Only 34 days to go. I have a lot of knitting to do.
I broke down and showed Amy her birthday socks. I cannot keep a secret at all.
They are, of course,
Jaywalkers
. I would speculate that I am one of only about two knitters in the entire universe who have not yet made a pair. (I say this, knowing full well that Amy has not made them yet either!). They are knit in Lorna's Laces
Shepherd Sock in the amethyst Stripe
colorway. I saw the yarn in Virginia when we were on vacation and just knew it wanted to be socks for Amy given her love for all things purpley.
The evening ended with other good things...but this is a family blog.
The romance continued this morning as Alan and I had to wash the cat's ass yet again. She is so fat she can't do it herself and things get, shall we say, interesting, down there.
That is love, darlings, my true love and I washed the cat's ass!! I bet you can't say that.
I bet you're glad about it too!