A Brush With Blogging Greatness

...aka, "Jaimi is a Bumbling Idiot"...
So, I woke up this morning with a true Rhinebeck hangover. Tired legs, hips, and feet from all the walking--a bit of a cold from the brisk Autumn air that blew all day--a still-full feeling from all of the yummy food. Spacey Tracy's Pickles?? Tres yum!

I did manage to top my yarn purchase of last year (all $9.00 of it). I went this year with specific projects in mind and no children to help facillitate the purchasing ability. It was a smashing success!
I absolutely had to get yarn for my Clapotis, a winter scarf for myself, and a pair of pink hand-painted socks for myself. Sense a theme?? It was all about me this year!

Our first stop (it was myself, Amy, and Stephanie [not THAT one...but just you hold on, my pretties]) was the Brooks Farm booth. It was there that I had my brush with blogging greatness and also proved myself to be an idiot...but I am getting ahead of myself.
Brooks Farm Four Play ; 3 skeins for my Clapotis
More Four Play for my new winter scarf
Pink and rose sock yarn with china blue accents; from Spirit Trail Fiberworks
Once the must-have purchases were made, then I let the whims carry me. I mean, how could one not buy this?
I mean, seriously...it is the cutest thing I've ever seen. Well, almost: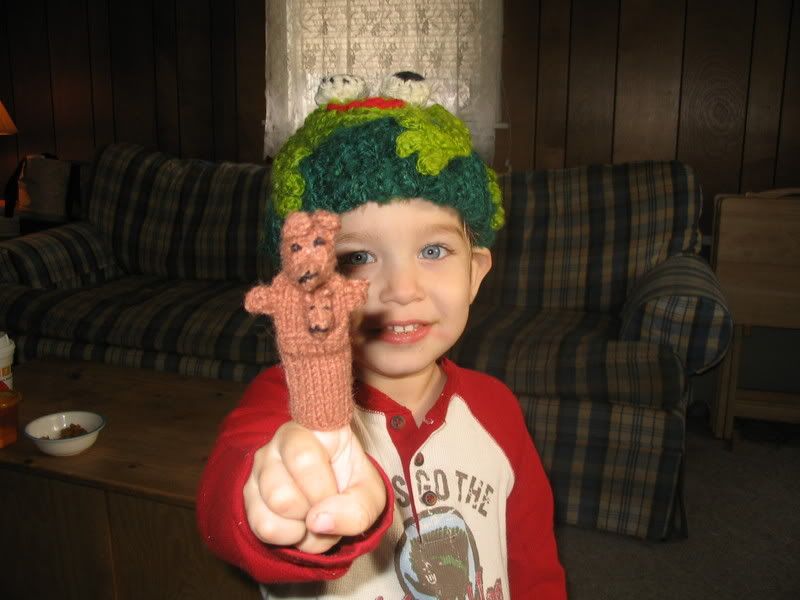 The Bug is holding some of these cute little finger puppets that I got, and cannot remember from whence they came. It got to be a bit of a blur after awhile. A serious, wooly blur with some alpaca and llama thrown in for fun.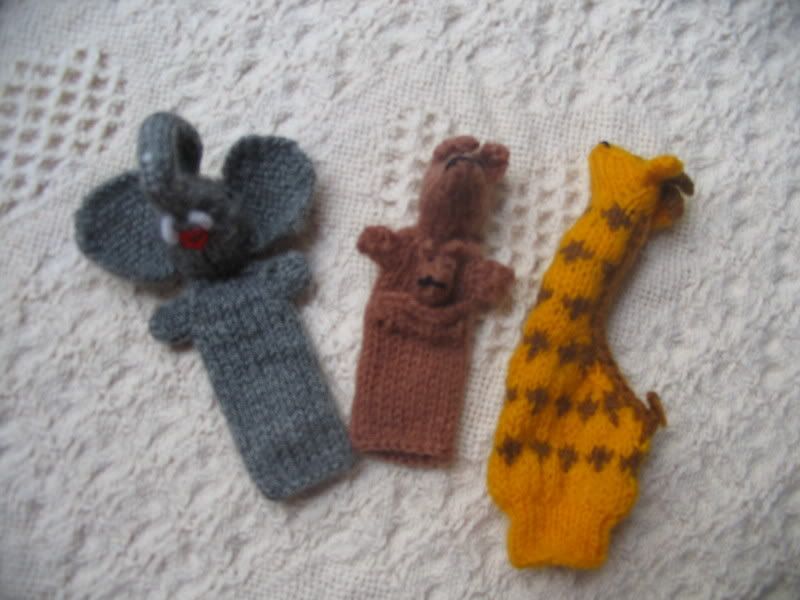 Aren't they adorable?
But now?
Now we come to the point of the story where I shame all my English teacher colleagues with my utter lack of communication skills and illustrate for the knitting world how completely unelegant, awkward, and socially challenged I can be.
I was standing in the aisle of Building A at around 11:00 am just outside the Brooks Farm booth. I had just spent almost an hour trying to decide between two colorways for my Clapotis and then had finally purchased the Chosen One. I was standing in the aisle, trying to recover from the euphoria, when who do I see gliding toward me, elegantly, effortlessly, but Knitting Royalty Herself?
I looked.
I looked again.
I may have gaped.
I decided in the hazy part of my brain that was still somewhat functioning, albeit at a slow-motion, surreal, dream-like rate, that I.Must.Do.Something.
Say something.
Anything.
Now.
Before she goes past.
Anything.
I panicked.
I reached out and touched the wedding shawl (I am still horrified at my audacity, the boldness, the complete lack of respect for her personal space) and I stupidly said the obvious, "It's beautiful!". To which she graciously replied, "Thank you!"
She moved on and I immediately began looking for a rock to climb under.
I am a bumbling idiot.
But, yet? Neener-neener-NE-NER! I touched the wedding shawl!
I apologize, Stephanie (yes, THAT one), I really do. I'm not normally such a moron, I'm really not.
Shut up Amy!